07 марта 2020
"Irtysh" vs "Temirtau"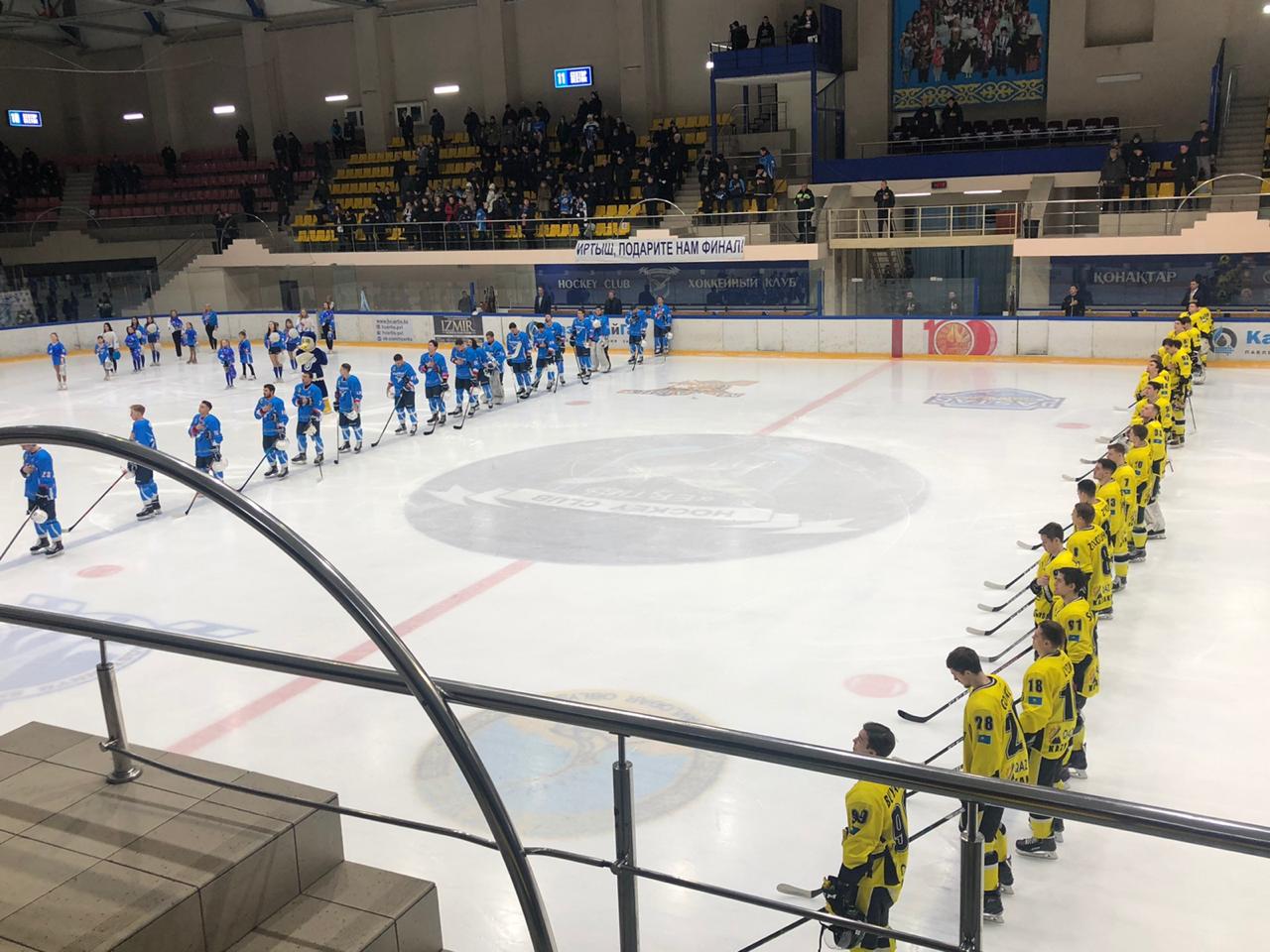 Today was the second match between the hockey team Irtysh (Pavlodar) and Temirtau (Karaganda). Among the players are InEU students!

---
Valeria Viktorovna Sergeeva, head of the department "Sports and Physical Culture", who has brought up more than one generation of famous and successful athletes, shared her impressions of the matches with us.
"The playoffs * started yesterday. The Irtysh team played in blue. Our students from the Physical Culture and Sports specialty play in this team: Davyd Makutsky, Daniyar Bilimbaev, as well as goalkeepers Vladislav Zabrodin and a graduate of the PE&S, 1st year graduate student of the specialty "Pedagogy and Psychology" Vyacheslav Nechvienko, who on the first day valiantly defended the gates of the Irtysh and did not miss a single goal. The team "Temirtau", in which students of the specialty "Physical Culture and Sports" also play: Vitali Shulga, Sergey Lazarev, Andrey Buyalsky, goalkeeper of the "Temirtau" team - Nikita Boyarkin, as well as a well-known young goalkeeper Demid Eremeev.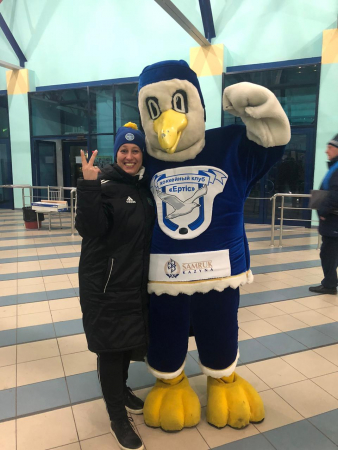 It was one of the hardest matches, it was very difficult to choose who to root for, as our students play in both teams. The guys are rivals on the court, but good friends outside the court. Some of them study in one group. It may be even more difficult for them to play against each other. For me, as for the head of the department, each athlete's personality is important, regardless of which team he plays in. I decided for myself to cheer for a beautiful game. I even put on a yellow-blue hat to support both teams," Valeria Viktorovna says with a smile.
The winners were the team "Temirtau". It was a real hockey game - bright, beautiful, fast, with spectacular fights and very beautiful goals!
Today's match was also in favor of the team "Temirtau". The gates of the Irtysh team were defended by our undergraduate Vyacheslav Nechvienko, and the gates of the Temirtau team were defended by student Nikita Boyarkin. The games of the second day were no less interesting and spectacular.
Note:
*A playoff is a series of games, following which one team leaves the competition and the other goes to the next round.
Photo: Valeria Viktorovna in a shirt of Vitaliy Shulgi, world champion among youth in ice hockey, student-grantee of InEU.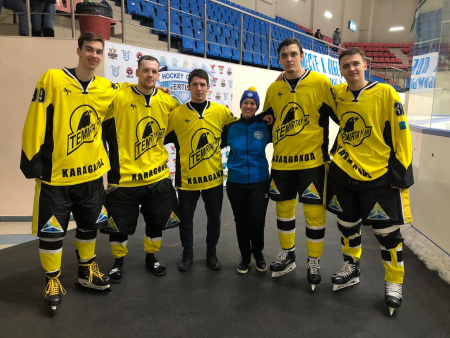 In the photo from right to left: World champion, world-class master of sports Andrei Buyalsky, world-class master of sports, world champion Nikita Boyarkin, world-class master of sports, world champion Vitaly Shulga, doctor of pedagogical sciences, head of the department "Sports and Physical Culture", master of sports of USSR in diving Valeria Viktorovna Sergeeva, master of sports Sergey Lazarev and master of sports Eremeev Demid.
You can see the video review of the match here:
InEU Press Service
Author: Valeria Viktorovna Sergeeva
Head of the Department "Sports and Physical Culture"