19 декабря 2019
Let's support our students at the World Hockey Championship!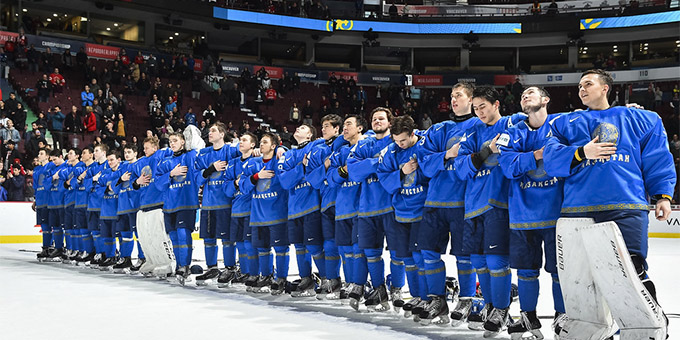 The youth team of Kazakhstan arrived in the Czech Republic, where the World Cup kicks off next week. Among the athletes are students of the specialty "Physical Culture and Sports" Ilya Nesterov, Andrey Buyalsky and Yusup Asukhanov!

---
Recall, the youth world championship will be held from December 26 to January 5. Matches will be held in the cities of Ostrava and Trzinec. At the group stage, the national team of Kazakhstan will play with Switzerland, Slovakia, Finland and Sweden.
Qazsport TV channel will show one game live, three in the recording. At the same time, all meetings will be broadcast live on the broadcaster's website.
Test matches:
December 21, at 19:00. Kazakhstan - Russia
December 23, at 17:30. Kazakhstan - Vitkovice
Group stage:
December 26, at 20:00. Switzerland - Kazakhstan
December 27, at 20:00. Slovakia - Kazakhstan
December 29, at 20:00. Kazakhstan - Finland
December 30, at 20:00. Kazakhstan - Sweden
The composition of the youth team of Kazakhstan:
Goalkeepers: Vladislav Nurek (Altai-Torpedo), Roman Kalmykov, Maxim Pavlenko (both - Snow Leopards).
Defenders: Artyom Korolev, Danil Butenko, Madi Dikhanbek, Timofei Katasonov, David Muratov, Vladimir Shlychkov, Rustem Dzhumagulov (all - "Snow Leopards"), Ilya Nesterov ("Irtysh"), Tamirlan Gaitamirov (Des Moines Buccaneers, USHL).
Forwards: Diaz Huseynov, Maxim Musorov, Oleg Boyko, Yusup Asukhanov, Vladislav Sayko, Alikhan Omirbekov, Stanislav Alexandrov, Ansar Shaikhmetdenov (all - "Snow Leopards"), Andrey Buyalsky, Denis Chaporov, Valery Nitsevich, Ruslan "Dyomina all "), Konstantin Bondarenko, Maxim Chalov, Nikita Lyapunov (all - Altai).
Head coach: Sergey Starygin.
Trainers: Andrey Shayanov, Alexander Vysotsky, Ildus Gabdrakhmanov, Alexander Kolyuzhny.
Good luck!
Source: shaiba.kz