Institute for advanced training


«To improve is to change; to be perfect is to change often».
Winston Churchill
Dear visitors!
Welcome to the official of the Institute of advanced training of the Innovative University of Eurasia.
The main goal of the Institute is to create a system of continuous professional development, increase the professional competence of specialists in various fields of activity and update theoretical and practical knowledge in connection with increasing requirements for their level of qualification.
Our goal is to meet the needs of specialists in gaining knowledge about the latest achievements in the relevant branches of science and technology, advanced domestic and foreign experience through seminars, trainings, master classes by leading teachers of InEU and invited experts.
In the framework of business cooperation, the Institute offers teachers and employees of the InEU consortium, specialists of educational organizations, economic, legal, technical areas to improve their qualifications in various forms of training (full-time, distance (online, off-line)) and under a flexible schedule.
The teachers of the institute are high-level professionals, have certificates of the republican and international level, experience in conducting seminars and trainings using modern teaching technologies.
We are constantly in search of new opportunities for your further development since after completing continuing education courses you become the owner of valuable experience, a baggage of effective techniques, practical skills, and professional competencies. We are sincerely glad to see you on our official website and are confident that each of you, having received information about the offered continuing education courses, will become our listener.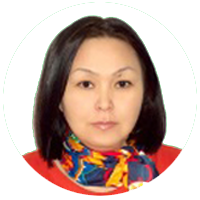 Shakarmanova Maizhan Pshenbaevna
Director of the Institute for advanced training
Address: Pavlodar, Lomova 45, room 109
E-mail: odoik@ineu.kz
Telephone: 67-35-35, 8(705)333-67-63, 8(707)786-54-47.
Site: ipk.ineu.kz
Useful Links
Our partners.