25 февраля 2021
A pandemic is not a hindrance to intellectuals!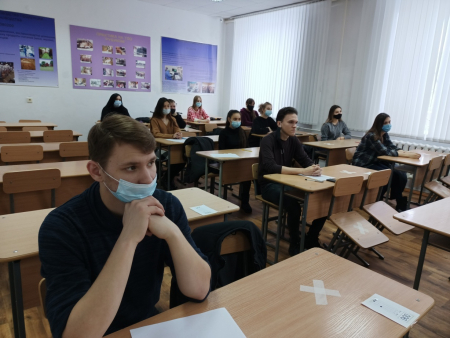 On February 24, 2021, an intra-university round of the subject student Olympiad was held at the Department of Agriculture and Bioresources. Students of educational programs "Veterinary Sanitation", "Biology", "Biotechnology", "Technology of Food Products", "Technology of Production of Livestock Products" took part in the Olympiad.
---
The tasks provided for the students to complete test tasks of a complex nature and solve cases. Students who could not come participated in the Olympiad remotely using the ZOOM platform, keeping in touch with the audience. Members of the organizing committee Ph.D. T.A. Nazarenko and senior lecturer Rafikova Kh.Kh. congratulated the students and wished them success in their studies and the Olympiad, which allows them to identify the best in various fields of knowledge. In turn, the participants of the Olympiad said that they were glad to have the opportunity to come to the university, to the department, to meet with teachers, communication with whom, as well as with fellow students, they lack in a pandemic.
According to the results of the Olympiad, students of the educational program "Veterinary Sanitation" Mikhailova Tatyana and Bakridenova Aizhan, students of the educational program "Technology of Livestock Production" Bassauer Sergei and students of the educational program "Technology of Food Products" Kaverina Julia and Salimkhan Aislu became winners.
Congratulations to the winners!
Press service of InEU
(according to the professor of the Department of Agriculture and Bioresources Komardina LS)