14 июня 2020
With a debut victory!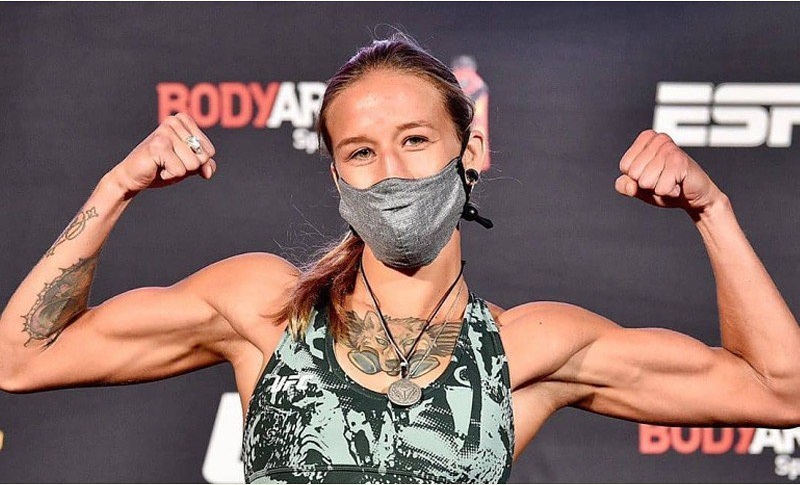 Student of the PE&S-202(s) group of the Innovative University of Eurasia, a Kazakhstani fighter girl, Maria Agapova, won the debut fight in the UFC.

---
Maria is the first citizen of Kazakhstan who made her debut in the most respected organization of mixed martial arts UFC. Her first fight in the popular world promotion took place at the UFC Fight Night 172 tournament in Las Vegas. The rival of the athlete was the American Hannah Saypers. The fight was completed in the first round, after Maria used a choke technique.
You can see the battle video on the official InEU Instagram page.
For Maria Agapova, this victory was the ninth in her professional career and the first in the UFC.
Recall that the biography of Maria from the very beginning looks like it is a movie. She began her career with the professional sports club "Akhmat" in Pavlodar, where she became the world champion in MMA and the winner of various championships of international level.
After some time, she flew to the USA, where she made an unsuccessful attempt to get into the UFC and announced that. Then she was offered assistance in career advancement. She stayed in Miami, continued training at the American Top Team, won two fights at Invicta FC and received a contract with the UFC.
Congratulations to Maria on a well-deserved victory!
Learn more about InEU:
  • InEU in the ranking of universities in Kazakhstan IQAA-Ranking
  • InEU in the Atameken rating
  • Partner feedback about InEU
InEU Press Service
According to the site vesti.kz