21 июня 2021
In sports, everyone is equal!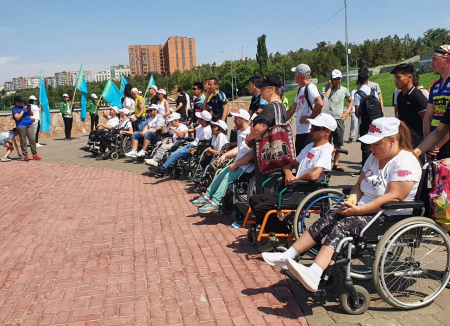 InEU volunteers helped to organize a sports marathon for young wheelchair users from the Samal rehabilitation center.

---
On the eve of the International Day against Drug Addiction (it will be on June 26), employees of the Office for Counteracting Drug Crimes of the Pavlodar Region Police Department, with the support of the Pavlodar Internal Policy Department, organized a marathon with the participation of youth in wheelchairs "In sports, everyone is equal! We choose life, say NO to drugs!"
The marathon was started by Kanat Shakuov, a member of the Running Pavlodar movement. On the 4-kilometer route, the participants had a "Poetic Pause". Poems about a healthy lifestyle, about love and Pavlodar were read by a member of the literary association named after. Pavel Vasiliev, poet Rafael Mukhamedzhanov.
At the finish line the marathoners were greeted by the deputy akim of Pavlodar Svetlana Gladysheva: "A healthy lifestyle is an important aspect for everyone. Stay confident, cheerful personalities. Let every day be clear and kind, let every moment give hugs and smiles of relatives. I sincerely wish you health, prosperity and peace outside the window."
The marathon ended with a concert and launching white doves into the sky as a symbol of hope.
Press service of InEU