29 октября 2020
InEU students know how to win!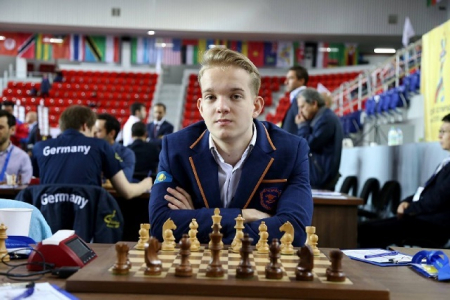 Congratulations to InEU student Denis Makhnev, winner of the Asian Nations Cup in chess!

---
On October 26, the online Asian Nations Cup 2020 ended.
The men's team of Kazakhstan at the end of the tournament shared 3-4 places with the team of Iran.
The national team of Kazakhstan included Denis Makhnev, a freshman of the Department of Sports and Physical Education, studying under the new educational program "Sports and Anti-Doping Support". He showed himself excellently in the game against the Indian national team. In the first meeting Denis scored 1.5 points in two games against the strong Indian grandmaster Krishnan Sashikiran, and in the second meeting he took third place on board 5.
The successful performance of the athlete in the knockout games allowed him to win the honorable 2nd line in Rating performance following the results of 6 rounds of the final part of the tournament.
Brief summary: Denis Makhnev at the age of 18 became the youngest international grandmaster in Kazakhstan. He is a multiple champion of the Pavlodar region, a multiple winner of the rapid chess championship of Kazakhstan, a silver medalist in classical chess, and a medalist of international tournaments. He entered the six best chess players in the world, finishing sixth at the World Championship in Greece.
The administration of InEU congratulates the athlete and wishes him new victories and success!
Press service of InEU