17 марта 2021
Debate in InEU!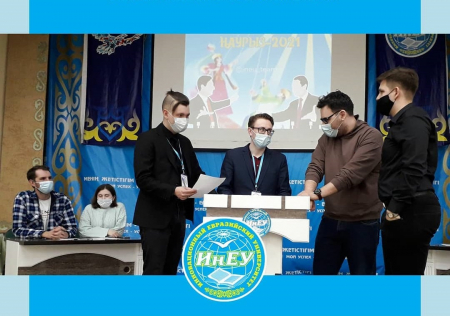 For the first time during the quarantine, debates were held in InEU. Organizers from the Committee on Youth Affairs timed them to Nauryz.

---
The topics raised by the debaters were serious: euthanasia, the death penalty, the introduction of a single international language and quarantine restrictions, which, by the way, were fully observed in the assembly hall of InEU.
All topics were considered without reference to a specific country. The debate tournament was held in the American parliamentary format: one team defended the topic, the second opposed it.
The jury evaluated the validity of the arguments, facts and conclusions. According to these parameters, the TPP-202 team consisting of Artur Bondarenko and Natalia Lupiy became the absolute winner. They argued well against euthanasia and the introduction of a single international language.
The second place in the tournament was taken by Alexander Patrushev and Stanislav Kanavets.
Third - Darina Khodko and Karina Karimova.
Congratulations to the winners and thanks to the hosts and the jury!
We remind you that you can sign up for the debate club "Horde" of InEU by phone: +7 701 539 97 92
Classes are held on Tuesdays from 16:30 to 18:00 at the address: Lomova, 45, office. 102.
Press service of InEU