12 февраля 2021
InEU for the region!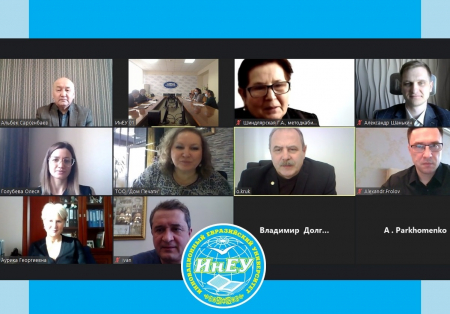 Members of the Board of Trustees discussed the participation of the InEU consortium in the regional economy. The online meeting was chaired by Oleg Kruk, Chairman of the Board of Trustees of SEC InEU, Chairman of the PB NCE Atameken.

---
The First Vice-Rector of InEU Anastasia Aliyasova made a presentation about the university and its prospects. The developing industry of the region needs highly qualified personnel and scientific support. The consortium's forces are concentrated on the fulfillment of these tasks. InEU is a modern university of engineering and economic profile.
Akmaral Kadyrova, Vice-Rector for Academic Affairs, reported on the compliance of InEU's educational programs with the requirements of the regional economy:
- In the near future, the economy of Kazakhstan will depend on the oil and gas and, first of all, on the fuel and energy complex. The analysis of its development projects determines two directions of organizing vocational education in the region: training specialists for mass professions for the dominant sectors of the economy and "small-scale" training of specialists for small and medium-sized businesses.
Among the employers who have approved the educational programs of InEU are the largest enterprises, banks, government agencies and the region's media. They are included in the educational and methodological council of InEU and working groups for the development of educational programs.
Dual training is conducted on 35 educational programs, practitioners are invited to binary classes, branches of departments at enterprises are organized.
Director Shalkarbay Tazhenov spoke about the work and achievements of HCInEU. The quality of education is confirmed by the victory of students in 4 nominations at World Skills - 2020, a regional professional competition.
The secretary of the council, dean of the Faculty of Engineering and Technology Alexander Svidersky proposed to organize an endowment fund at InEU. This fund will accumulate and increase funds invested by patrons. The received profit will be used to strengthen the material and technical base of the university, finance research projects, and study students.
Press service of InEU