30 сентября 2021
Attention, teachers of the InEU Consortium!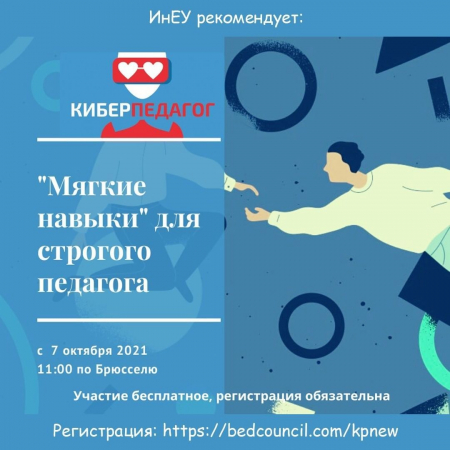 Attention, teachers of the InEU Consortium! We invite you to the free "Soft Skills" master classes for a strict teacher! Organizer: International Educational movement "Cyber Educator" of the Belgian Education Council.
Today, a teacher should not only be a source of knowledge. Everyone is talking about new teacher roles, but what are these roles? How are they interconnected? What combination of skills and competencies does a teacher need to develop? How can "soft" skills improve the quality of teaching many times over? Answers to these questions, practical advice, techniques and methods in the master classes.
They will be held at ZOOM from October 7 to November 4, 2021. On Thursdays at 11:00 Brussels time.
Schedule:
7.10 - Is the "soft" force so strong? How to influence, manage, inspire, direct using the "soft" power of the teacher.
14.10 - Learn to ask the right questions and enjoy the learning process!
21.10 - Personal experience as a tool for teaching students.
28.10 - Where does the wind blow from - how can a teacher competently prevent problems?
4.11 - Why would a modern teacher give so much to students?
To participate in master classes, register on the website: https://bedcouncil.com/kpnew
With registration you will get a lot of useful additional information!
Permanent link to all master classes: https://goo.su/7y4l
Meeting ID: 842 9190 8937
Passcode: 443019
InEU press service