20 марта 2019
Consultation meeting with members of Erasmus + project teams at InEU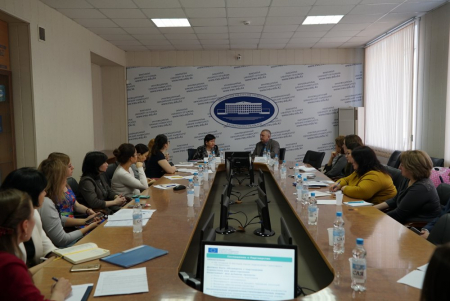 Within the framework of the "Capacity Building in Higher Education" action, selected as a result of the Erasmus + Competition, the National Office of the Erasmus + Program in Kazakhstan represented by the coordinator Shaizada Tasbolatova today held a Consultation Meeting with members of the Erasmus + project teams on the basis of the Innovative University of Eurasia.

---
The information meeting was attended by working groups of already ongoing projects 574099-EPP-1-2016-1-ITEPPKA2-CBHE-SP PAWER "Paving the way for interregional mobility and ensuring compliance, quality and equity of access", as well as newly won 598690-EPP-1-2018-1-BE-EPPKA2-CBHE-JP561685-EPP-1-2015-1-CZ-EPPKA2-CBHE-JP "Creation of master programs in human resource management and human resource development in Central Asia / TALENT», Project N 598092-EPP-1-2018-1-BG-EPPKA2-CBHE-SP "Modernisation of Higher Education in Central Asia Through New Technologies"
Speaking with a welcoming speech, Tasbulatova Sh.U. discussed with the participants the nuances of work and gave practical recommendations for the successful implementation of the project. His uniqueness and ultimate goal were especially noted. According to the coordinator of the National Office of the Erasmus + program in Kazakhstan, it will be very useful for the development of priority areas.
The coordinator noted that the chosen tactics of work is a sign of indifference and the hope that in the future the project will effectively develop and find its practical application.
At the end of the meeting, the results were summed up, those who wished could receive individual consultations and answers to questions of interest, discuss the subtleties that they encounter during the work on this project.
Head of Department of Scientific and Organizational Work
and international cooperation
Anastasia Vasilyevna Aliyasova