04 апреля 2019
The action "Scientist in School" continues!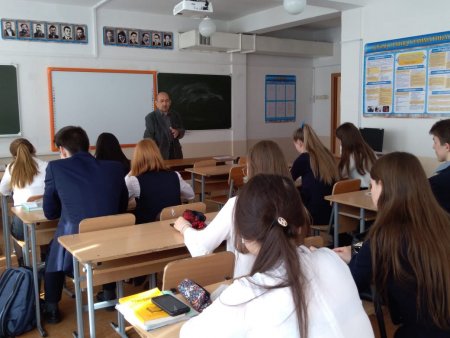 Within the framework of the vocational guidance work of the university departments, an action "Scientist at School" was held. Murat Suleimenov, a professor of the "Law" department of InEU, a Candidate of Historical Sciences, met with graduates of Pavlodar 14 school.
---
The meeting was also attended by the teacher of the "Law" department - Zhadyra Talipova. At the beginning of the event M.A. Suleimenov asked the audience what kind of professional future they represent for themselves. This allowed the meeting to set up a trusting attitude, to create a positive atmosphere. Then, starting from the opinion of future graduates, he remembered how he had chosen his profession in due time. He told about the features of professional orientation in that period. I noticed that it was closely related to the needs of the socio-economic development of the country.

During the lecture, he also spoke about the benefits of studying at our university, spoke about his studies and professional career. Drew the attention of graduates to popular specialties in the present period. He elaborated on the example of the specialty "Jurisprudence" on the attractive aspects of studying in our university, region.

In a speech to graduates, Murat Suleimenov paid special attention to modern trends in social development and public policy, which are clearly marked by the dominance of the social aspects of a particular person's life. He recalled: what opportunities opens up 2019, declared the year of the youth!
 
Candidate of Historical Sciences
Professor of the "Law" department
Murat Suleimenov