01 апреля 2019
We invite you to the InEU Scientific Library for new books!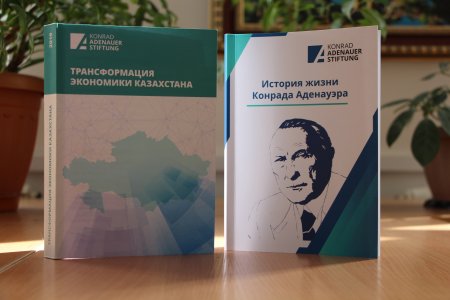 The representation of the Konrad Adenauer Foundation in Kazakhstan as part of its activities in 2019 published the book "Transformation of the Economy of Kazakhstan and the publication The History of the Life of Konrad Adenauer".
---
The Foundation, named after the first Chancellor of the Federal Republic of Germany, rightfully occupies a high and unique position among international organizations and brings global principles to humanity: freedom, peace and justice. The book "Transformation of the Economy of Kazakhstan" is a collection of articles by experts from Kazakhstan and Germany on the main sectors of the economy of the Republic of Kazakhstan. The articles describe their development, the key challenges they face and provide expert recommendations in various areas. The book contains the works of Kazakh authors Dosym Satpayev, Madina Musaeva, Vyacheslav Dodonov, Rakhim Oshakbayev. They are recognized leaders in the areas they represent, whether they are in the area of ​​tax legislation, business promotion, or energy policy. The publication also reflects many ideas and recommendations for the beginning of the transformation of the economy. The important problematic topics for our republic such as support for small and medium businesses, anti-corruption policy, the agricultural sector of Kazakhstan, renewable energy, foreign investment, political risk management in Kazakhstan, the prospects and risks of the Eurasian Economic Union, the economic relations of Germany and Kazakhstan are touched upon. The book will be of interest to a wide circle of readers interested in trends in the economic development of the Republic of Kazakhstan.


Scientific Library Bibliographer
Amrenova M.E.