09 February 2021
InEU is a university for the best athletes!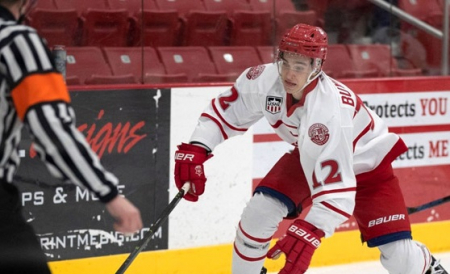 Andrey Buyalsky, a student of the Department of Sports and Physical Education, signed a contract for the next season with the team of the University of Vermont, which is playing in the NCAA league.
---
The athlete started this season in "Almaty". In the regular championship of Kazakhstan, he played 24 matches and recorded 13 (5 + 8) points. Then the forward moved to USHL. As part of the top US Junior League Dubuque Fighting Saints, he played 12 games, scored 3 goals and made 8 assists.
Let us remind you that the master of sports of international class, world ice hockey champion Andrey Buyalsky is studying at the 3rd year of InEU under the educational program "Physical culture and sport".
We congratulate Andrey on international recognition and wish him further success in his sports career!
Press service of InEU
(according to the information of the site shaiba.kz)