26 November 2020
InEU students know how to win!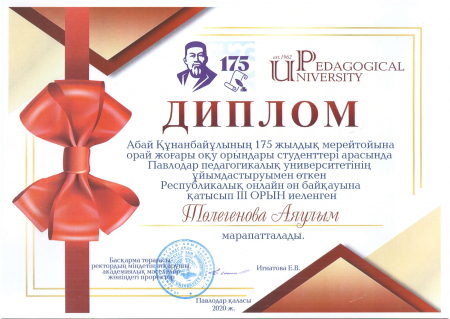 InEU student Ayaulym Tolegenova took the third prize in the republican online vocal competition dedicated to the 175th anniversary of Abai Kunanbayev.

---
The competition, held by Pavlodar Pedagogical University, was attended by 25 performers from different cities of Kazakhstan. Ayaulym Tolegenova performed the song "Zhelsez tunde zharyk-ai" on the verses of Abai.
Ayaulym Tolegenova - student of the Department of Languages, Literature and Journalism, group ЖР19-201. She is a member of the vocal group "Belcanto" InEU, led by Shakim Mausym.
- I have no musical education, but in our family, from the side of dad and mom, everyone sings. I think I got it from them. Genes, so to speak, - says Ayaulym. - Since childhood, I have seen and heard my grandfather playing the dombra and my mother singing. Since then I have plunged into the world of songs. From the age of four I began to watch concerts and performances of our Kazakhstani and foreign singers. From the age of seven she sang at family holidays. My very first official performance was in the third grade. At the school competition dedicated to March 8, I sang the song "Kazakh Kyzy" and took the nomination "Kylykty Kyz." Since then, I began to perform at school concerts, to participate in regional and regional competitions.
Congratulations to Ayaulym Tolegenova, we wish you creative success and new victories!
Press service of InEU