01 марта 2021
InEU - Good University!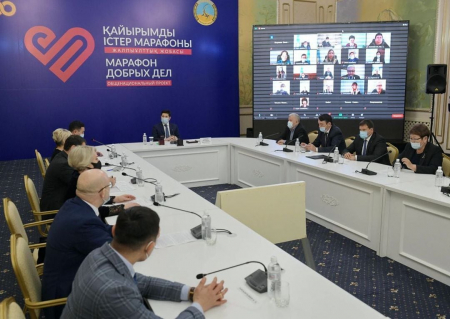 On the Day of Thanksgiving, the rector of InEU Evgeny Borisovich Nikitin took part in the opening of the republican Marathon of good deeds.

---
The opening of the action took place in the House of Friendship with the participation of the akim of Pavlodar region Abylkair Baktybaevich Skakov and patrons of the arts: deputies, heads of large enterprises and organizations of the region.
- Every year InEU participates in the republican action "Road to School", allocates funds for the purchase of school supplies for children from low-income families. Now we are collecting funds for the treatment of a sick child. Also, the volunteer movement is developed in InEU. Students hold charity fairs and events, participate in subbotniks, landscaping park and coastal areas, work in construction teams. Now they help lonely pensioners to clear the snow from the yards. The University fully supports the Marathon of Good Deeds. We have extensive experience in providing targeted charitable assistance, so we position ourselves as a Good University, - said Evgeny Borisovich.
Happy Thanksgiving Day to everyone! This is our common holiday of mercy and mutual assistance.
Press service of InEU