22 февраля 2021
Career guidance in a pandemic continues!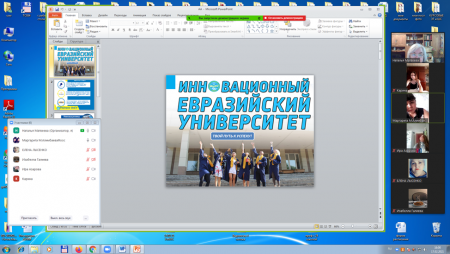 The vocational advisor of the Department of Environment and Chemical Technologies Matveeva Natalya Ilinichna and the vocational advisor of the Department of Industrial Engineering and Design Matveev Viktor Dmitrievich met with the graduates of schools №24,11,27.

---
Also, a specialist of the "Foundation" faculty Orazbekova Aigerim Altynbekovna held a meeting with the students of secondary school №33. She not only answered the alumni's questions, but also gave a short, very interesting consultation in biology.
Since last year, due to the pandemic, face-to-face classes in schools have been canceled, and therefore university teachers could not, as before, meet with graduates for career guidance. But in the age of the Internet, this has ceased to be a problem: since last year, meetings have been organized through ZOOM conferences.
According to the schedule, InEU vocational teachers go online and talk about changes in the UNT format, peculiarities of admission to a university, features of distance education during the coronavirus period, discounts and benefits provided by the university, job prospects, and also advise on the choice of specialized subjects, explain how and where to take exams to medical universities, how to enter creative specialties. These questions concern not only graduates, but also parents. Therefore, the teachers of the Innovative Eurasian University try to give graduates as much information as possible at career guidance meetings.
Press service of InEU
(according to the information of the professional orientator of the department "Environment and chemical technologies" Matveeva N.I.
and vocational advisor of the department "Industrial Engineering and Design" Matveeva V.D.)