11 июня 2021
Debaters of InEU took part in the republican tournament!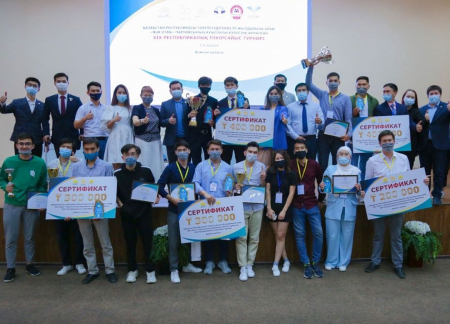 On June 5-6, a debate tournament for the challenge cup of the "Nur Otan" party was held in Almaty. InEU was represented by the participants of the debate club "Horde" Alexander Kulikov and Darina Khodko. Both first-year students, for whom this was the first experience of participating in tournaments of this level.
---
The debates were attended by 40 teams from all regions of the country. InEU students entered the top ten in the Russian league. The topics of debate were topical: the complete transition of the world to online, the mandatory vaccination of all Kazakhstanis, the development of effective approaches to prevent bullying in schools of the country, etc.
- For our team, I think, as well as for others, this tournament was a very good experience. The variety of game formats forced the players to quickly assess the situation and choose the more correct tactics for playing the game, "says team leader Alexander Kulikov. - I would like to express my gratitude to the university for the opportunity to participate in the tournament and for supporting the debate movement. I believe that these days the skills obtained in debate matches, tournaments are very relevant.
All participants of the tournament received certificates from the Alpha Academy company.
We remind you that the debate club "Horde" operates in InEU. His meetings are held on Tuesdays from 4:30 pm to 6:00 pm in room 102.
For all questions, please contact the chairman of the debate club Alexander Petrenko: +7 705 405 2943
Press service of InEU
(according to МК "Жас Отан")