01 апреля 2021
Congratulations on receiving the honorary award!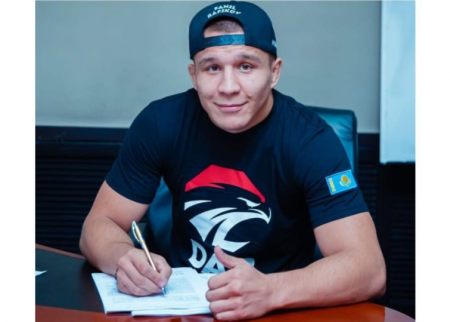 Senior lecturer of the Department of Sports and Physical Culture, NFC champion Rafikov Fanil Farhatovich was awarded a letter of gratitude from the First President of the Republic of Kazakhstan - Elbasy Nursultan Nazarbayev.
---
Award for active participation in providing support to the population during the coronavirus period as part of the "Bez birgemiz!" presented by the chairman of the youth wing "Jas Otan" of the Pavlodar regional branch of the party "Nur Otan" Sanira Zhusupova. Since Fanil Farhatovich is currently at a sports training camp in Almaty, the award was presented to his brother Abai, and Fanil himself was contacted by video link. Sanira Zhusupova wished the athlete good luck in the upcoming competitions, and Fanil, in turn, expressed gratitude to Elbasy, the Nur Otan party, the Jas Otan youth wing, and said that he would continue to work with young people as a volunteer.
Congratulations to Fanil Farhatovich on receiving the award, we express our gratitude for the work and help to the people around him. This award testifies to the broad soul of the owner, his active civic position and unchanging love for the Motherland. We wish you good health, success, conquest of new heights and tireless movement towards your cherished goal!
Press service of InEU
(video source: instagram.com/jasotan_pavlodar)